Tom '77 and Elaine Langlois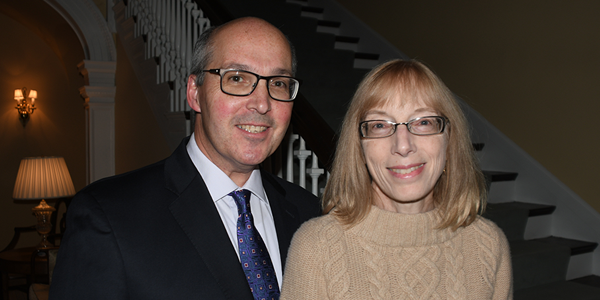 Many alumni call Cincinnati Country Day School their "second home." For Tom Langlois '77, it was that and more.
Langlois was a seventh grader when his mother was diagnosed with breast cancer. She died when he was a 14-year-old ninth grader. "Like many dads of that era, my father wasn't very good at keeping the family together after she passed away. So, guys like Sam Tumolo, Joe Thesing and Chuck Yeiser became my parents. They were my second family in many ways."
A staff attorney at the 1st District Court of Appeals, Langlois is serving his second term on the Country Day Board of Trustees and has been Alumni Council president.
To give back to the school that means so much to him, Langlois has named Country Day a beneficiary of real property in his will. "Donors can make a real difference in the future of the school by leaving a legacy gift through their estate. That's the ultimate expression, that deep appreciation for the dedicated teachers and coaches who mentored and befriended us."
Langlois also plans to contribute by tapping into his retirement plan. "When it comes time to make mandatory distributions from your qualified retirement plans, you can name the school as the beneficiary of those distributions. Country Day, being a non-profit, doesn't pay tax on that, and I get to write it off my income."
"Looking forward to our next century, it seems like a good time for all of us to reflect on what the school has meant to us. Country Day had the most profound influence on developing our character and our minds," Langlois said. "I have very fond memories of what Country Day did for me. And, I want to do my part to help the school make a difference in the lives of our current students."
To learn more about planned giving, contact Louise Vaughan, Director of Advancement, 513-979-0284, vaughanl@countryday.net
IS A CHARITABLE BEQUEST RIGHT FOR YOU?
We have resources that will help you learn more about bequests. Click here to review sample bequest language. You will see how easy it is to include a bequest in your will or trust.

You might find it helpful to print this page and the bequest language. Please feel free to give this information to your attorney. If he or she has any questions, please contact us.