Craig '67 and Anne Maier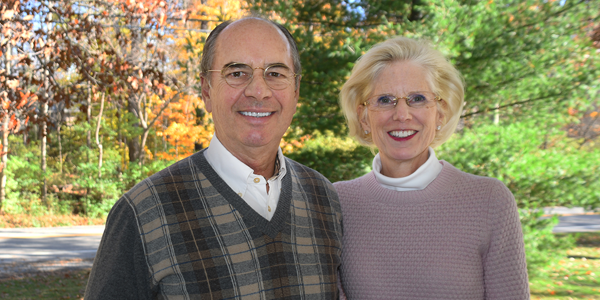 Craig '67 and Anne Maier's three children graduated from Country Day in 2013 and 2015, but as an alumnus and former parents, the Maiers have remained generous supporters.
The Maier generosity to Country Day began with Craig's father, Jack C. Maier, who funded the cafeteria years ago. It was demolished during construction of the new Upper School building in 2000.
Besides annual giving, the Maiers have given $200,000 in unrestricted funds to capital building projects, and $250,000 to the Blue & White Triumphant Campaign to grow the endowment fund. They earmarked $25,000 of the Blue & White gift for the Class of 1967's 50-year class reunion match challenge for the Richard O. Schwab '67 Middle School Fund. Classmates Gordon Deane and Schwab also donated $25,000 each.
"We put forth the challenge, because in addition to us giving, we've tried to encourage other people to give as well", Anne said.
The Blue & White gift was unrestricted because the school needs money for the endowment fund, Anne said. "Nobody wants to give money that isn't glamorous like that, but it's really important to build that endowment fund. We did that in addition to all our annual giving because many people don't seem to understand you not only give annually, which is really important, but you also give above and beyond that, occasionally."
Besides monetary donations, Anne has spent countless hours volunteering at the school, including two three-year terms on the Board of Trustees, co-chair of CountryDate and helping solicit money for the Annual Fund (now the Country Day Fund).
Since becoming empty nesters, Craig retired as president & CEO of Frisch's Big Boy Restaurants, and the couple has traveled extensively. What keeps them circling back to Country Day?
"The sense of community is very important to us because we have enjoyed meeting so many wonderful people and have made some dear friends over the years," Anne said. "We enjoy seeing them at community events."
IS AN ENDOWMENT GIFT RIGHT FOR YOU?
If you would like to learn more about how you can make a gift to our endowment, please contact us. We would be happy to work with you to structure an endowment gift to meet your charitable goals.