New Levinson Pool Opens With A Splash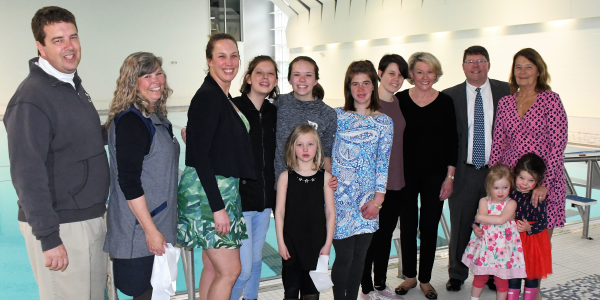 Apr 11 2018
Cincinnati Country Day School students are making waves again since Monday's opening of the new Peter Levinson pool in the Leonard Athletic Center. The long-awaited opening was celebrated during a small ceremony with donors Mike '83 and Susie Leonard and family cutting the ribbon.
Earlier in the day, Lower and Middle School students gleefully jumped in their pool for swim lessons, followed by free swim time.
"What a great day for Country Day. Our students are back in the water!" Head of School Tony Jaccaci told the crowd of 40. As we know, special days like these don't just happen. It starts with a vision. Six years ago, Mike and Susie Leonard shared their vision. They saw the potential, recognized the need, and put a plan into action. And today, we're the beneficiaries of their foresight and generosity. Thanks to the Leonard family, our students will progress from swim bubbles to swim champions in this magnificent venue, the Leonard Athletic Center."
"I sense we'll never be able to adequately convey our thanks for such a monumental gift, but Mike, Susie, and to all the Leonards, we'll never stop trying, and I hope you feel our gratitude with every splash and stroke. We'll always be deeply indebted to you for your generosity, your vision, and your patience."
Mike Leonard then introduced his granddaughter, Hailey, who was the first member of the Leonard family to swim in the new pool. "It's a special day for everyone. Being in this building brings back wonderful memories. It looks great. I've never seen it look better. It's hard to believe it's the same room."
"Cincinnati Country Day holds a special place in my heart. Four generations of the Leonard family have attended Country Day. My father started the tradition, which continued with my stepdaughter Erin, my daughter Katie, my daughter Meghan started here in the Pre-K program, and now Josie is a senior, Jessica is a freshman and Hailey started in the House and is now in Pre-K I and had her swim lesson today."
His father, Mike Leonard '55. who passed away nine years ago, made sure his family had access to the best possible education and valued Country Day. "He watched my whole swim career in this pool," Leonard said. "He knew the opportunities that a facility like this would offer and knew how much it meant to me personally and to our family. The original pool provided countless opportunities for students and this pool will in the future.'
"While it took much longer than anticipated, the time has come to celebrate the impact of the future of this facility and the opportunity for swimming it will give many, hopefully in the 50 to 60 years and farther to come."
The Leonards were compelled to fund a new pool after Susie Leonard attended a meeting where plans to redevelop the North Campus did not include a pool. "She came home and asked me about that and said, 'I can't envision Country Day without a pool,' so that was kind of our charge. We wanted to ensure that swimming remains in perpetuity at CCDS."
Leonard thanked his Country Day family who worked hard to make the new pool a reality. "It's an honor for me to be surrounded by my family and my Country Day community family as we reopen the Levinson Pool of the Leonard Family Athletic Center."
Work on the entire athletic complex is targeted for completion in July. A community-wide dedication is planned for the fall.
About the pool
The dimensions of the pool are wider, but it's the same building footprint. There are two new walls, windows, skylights and new spectator bleachers in the balcony with 90 additional seats.
A new UV filtration system allows the school to reduce its chemical use so the pool is not as chlorine filled. UV light is used to kill bacteria and germs.
The pool is slightly more shallow with 7 feet on the deep end. The number of lanes, six, is the same but six feet, three on each side, were added.
The pool has a zero edge gutter system, which means the water is at the gutter level, so it spills off. "That allows us to add lane lines along the edge of the pool, which will make it a faster pool for competitive swimming." Athletic Director Chris Milmoe said.
-Cindy Kranz