Hap Castleberry '50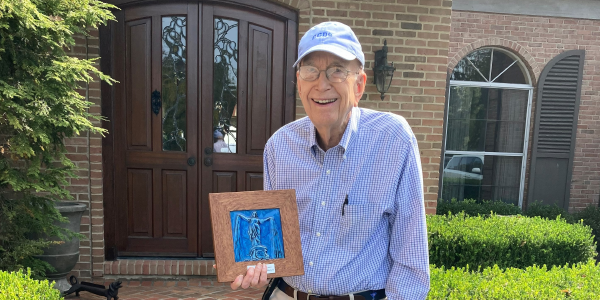 Country Day has a long tradition of supporting students through the provision of tuition scholarships. All students benefit from the school's rich diversity of backgrounds, experiences and shared learning opportunities.
This year, generous alumnus Hap Castleberry '50, established the Edward F. and Susan S. Castleberry Scholarship Fund. The fund provides support to the Triumphant Scholars Program, awarding full-tuition scholarships to academically talented students with significant financial need. Castleberry's gift will be matched dollar-for-dollar by Roger Kafker '80, as part of his Triumphant Scholars Match Challenge.
"I feel an obligation to support Cincinnati Country Day," said Castleberry, a retired Cincinnati entrepreneur. "They taught me, trained me and set me up for college and my life, and with friends I made there. That's what you carry with you."
Castleberry of Hyde Park attended Summit Country Day for the first eight years of his education. Summit's Upper School was not co-educational then, so he had to shop for another high school.
"I had polio, rheumatic fever and an enlarged heart when I was a child. I could have gone to St. Xavier High School, but at Country Day, I had the opportunity to do all the things I couldn't do at Xavier."
At that time, St. X had hundreds of students in each grade level, Castleberry said, but he was one of only 20 students in his class at CCDS. He excelled in this small environment. "When I was there. I played all the sports, could work on the newspaper and be in the theater. You could do everything with small classes."
Castleberry shone in tennis and was the first captain of the team. "It's a wonderful sport. It helped me with my polio. It built my body up. I started playing in the seventh or eighth grade, and I was fortunate. It became my best sport. I had good eye-hand coordination."
He went on to play doubles at Brown University. In later years, he was ranked 13th nationally in 65 and over men's tennis doubles.
Castleberry has been a life-long businessman/entrepreneur. His parents started Cedar Hill Farms, where he worked when he returned from Brown. He also earned a degree from the Ohio State University Dairy Technology School and an MBA in finance at Xavier University. After his family sold the dairy business, he parlayed his skills to become successful in other businesses and real estate ventures.
Yet, he's never forgotten his roots. Castleberry's philanthropy benefits several private schools in Cincinnati. "I want to give the opportunity I had to other kids. I just think there are so many people who need it."